Microphone stands are incredibly important on stage and in the studio. However, they are still seen as the unsung heroes in the music game and they are consistently the last item on most shopping lists. Not to worry though, if you realize how vital they are, see 5 Best Mic Stands:
1. Ultimate Support MC-125:
This mic stand comes with a cast-metal base and a 5.7lb/2.58kg counterweight with a position that can be adjusted along the rear end of the boom.
Must Read: 5 Best Microphones To Buy
Its heavyweight base possesses a hybrid circular/tripod design to offer added stability and a lockable castor at every corner. Meaning, the stand can be wheeled freely into any position of your choice, and also locked into place whenever you want.
2. Samson MK10 Lightweight Microphone Boom Stand: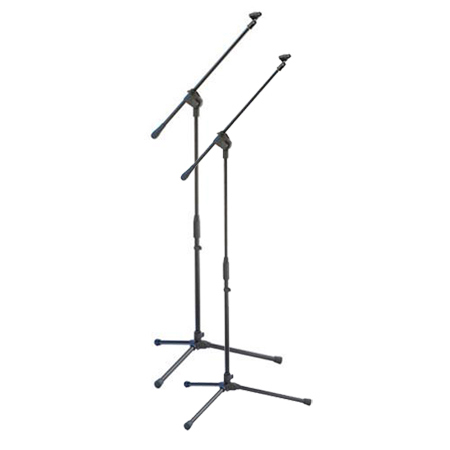 This one delivers the perfect blend of quality, durability and affordability, and it is available for a reasonable price. It is highly portable and it folds down to just 25"/0.63m once collapsed, however, it is not the tallest option around. It possesses a regular push clip to hold an SM58-style mic, and it comes with a special cable clip on the side of the boom clamp to keep things organized.
3. AtlasIED MS-10C:
This option boasts a simple and durable design that will help while you gig or record. It is available in cool colors and its stand comes with a wear-proof three-piece clutch that helps you adjust the height from 35 to 63 inches (0.9 to 1.6m).
Must Read: 5 Best Mac-Compatible Microphone For Streaming
Its 11.25lb/5.1kg weight is perfect, and it is equipped with rubber feet to absorb unexpected bumps and protect floor surfaces. All of this guarantees the stability you need for a solid stand that will not move unless you need it to.
4. Hercules Tripod Base Hideaway Boom Stand MS533B:
This is a study option that is designed to guarantee speed and convenience. It looks like a simple, single-pole stand with a tripod base, alongside a nifty one-handed, squeezable EZ clutch to aid rapid height adjustments. Extending it to the maximum allows you to change the angle and then push the tube back via the joint to access a boom arm.
5. RØDE PSA1 Microphone Studio Arm:
This is a professional-standard mic that will suit any mic shock mount combination weighing around 2.4lb/1.1kg. The stand comes with velcro straps to keep your cables organized, and the springs are internal, making it look super sleek.
Must Read: 5 Best Microphones To Buy
You'll also love the fact that the microphone position can be repositioned immediately without having to loosen or tighten anything.
wrapping up:
There you have it – a comprehensive list of best Mic stands to buy. if you have any personal favorite or other recommendations, feel free to drop them in the comment section below.
More Information On Gadgets:
A gadget is a small tool such as a machine that has a particular function, but is often thought of as a novelty. Gadgets are sometimes referred to as gizmos.
In the software industry, "Gadget" refers to computer programs that provide services without needing an independent application to be launched for each one, but instead run in an environment that manages multiple gadgets.
There are several implementations based on existing software development techniques, like JavaScript, form input, and various image formats.
The earliest documented use of the term gadget in context of software engineering was in 1985 by the developers of AmigaOS, the operating system of the Amiga computers (intuition.library and also later gadtools.library).
It denotes what other technological traditions call GUI widget—a control element in graphical user interface. This naming convention remains in continuing use (as of 2008) since then.
It is not known whether other software companies are explicitly drawing on that inspiration when featuring the word in names of their technologies or simply referring to the generic meaning. The word widget is older in this context.
In the movie "Back to School" from 1986 by Alan Metter, there is a scene where an economics professor Dr. Barbay, wants to start for educational purposes a fictional company that produces "widgets: It's a fictional product."