Ensuring you always have enough battery on your phone while you are on the go is very important. For Huawei owners, in particular, I don't have to tell you the important things you can miss out on if your device goes off on you when you least expect. For the best options to keep your smartphone charged up all the time, see out list of 5 Best Power Banks For Your Huawei Phones:
1. Anker Powercore Slim Power Bank: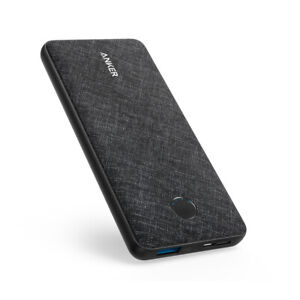 This is a 10,000mAh portable charger that provides PoweriQ and VoltageBoost tech for super quick charging. It even comes with the option to charge devices that consume less power. Anker makes use of its eleven-point safety system to make sure your device is charged quickly and securely. Its useful LEDs is also available to let you know how much charge is remaining.
2. Aukey USB C 10,000mAh Portable Charger:
This is another 10,000mAh battery backup and it comes with a USB-C connection. The power bank provides super-quick charging and its design is very dope.
Must Read: 7 Best 10000mah Power Banks
It is slim and will fit smoothly into your pocket. It also comes with a LED indicator that will inform you when the time is right to charge up your power bank.
3. RAVPower PD Portable Charger:
This power bank will serve your Huawei phone very well with its Power Delivery fast charging.
Must Read: Guide To Buying A Good Power Bank
It is a 15,000mAh charger that comes with a 30W Power Delivery USB-C port for the quickest charging you can dream of. It is quite small, so you can easily move about with it. It will charge more than one device at the same time too.
4. Anker PowerCore Essential:
Still on the topic of best power banks for Huawei Phones. Anker is blessed with various 20,000mAh power banks, but this one definitely stands out.
It comes with a USB-A port for output, along with a USB-C port for input and output because of its support for Power Delivery. The power bank can also be charged in less than 7 hours for a long-lasting battery life that will benefit your precious devices.
5. Crave Plus 10000mAh Slim Portable Charger:
With this useful USB Type-C port, you will be able to charge your devices much quicker than with regular USB ports. However, if you own any device that does not support USB Type-C, its Quick Charge 3.0 USB port can be used instead. It is one of the slimmest around, so you can take it anywhere you want without weighing yourself down.
More Information On Power Bank:
A battery charger, or recharger, is a device used to put energy into a secondary cell or rechargeable battery by forcing an electric current through it.
The charging protocol (how much voltage or current for how long, and what to do when charging is complete, for instance) depends on the size and type of the battery being charged. Some battery types have high tolerance for overcharging (i.e., continued charging after the battery has been fully charged) and can be recharged by connection to a constant voltage source or a constant current source, depending on battery type.
Simple chargers of this type must be manually disconnected at the end of the charge cycle, and some battery types absolutely require, or may use a timer, to cut off charging current at some fixed time, approximately when charging is complete.
Other battery types cannot withstand over-charging, being damaged (reduced capacity, reduced lifetime), overheating or even exploding.
The charger may have temperature or voltage sensing circuits and a microprocessor controller to safely adjust the charging current and voltage, determine the state of charge, and cut off at the end of charge.
A trickle charger provides a relatively small amount of current, only enough to counteract self-discharge of a battery that is idle for a long time.
Some battery types cannot tolerate trickle charging of any kind; attempts to do so may result in damage. Lithium-ion battery cells use a chemistry system that does not permit indefinite trickle charging.
There you have it – a comprehensive list of 5 of the best power banks for  Huawei Phones. If you have any personal favorites or other recommendations, feel free to drop them in the comment section below.