It is possible to record your smartphone screen to make how-to clips, educational clips, or have your gameplay streamed. Several Android screen recording apps are available for rooted and non-rooted devices, aiding users to record their screens with lots of magnificent features. Some applications were installed with embedded watermark on-screen. But there are various screen video recorders that do not cost a thing for Android and do not come with any sort of watermark. To understand this better, here is our list of 7 Best Screen Recording Apps For Android:
1. AZ Screen Recorder
A well known Android screen capture app that is currently used by millions of users. It is simple to work with and needs no root access. It has zero watermarks or time limits as you record. It lets you create HD and Full HD videos plus you also get to pause and continue as you record. The clips that you make get saved instantly to the gallery. It is very customizable. You also get to enjoy more features like Magic button, ad-removal, countdown timer and so on. Potential users must expect in-app purchase. The free version contains advertisement also.
2. Super Screen Recorder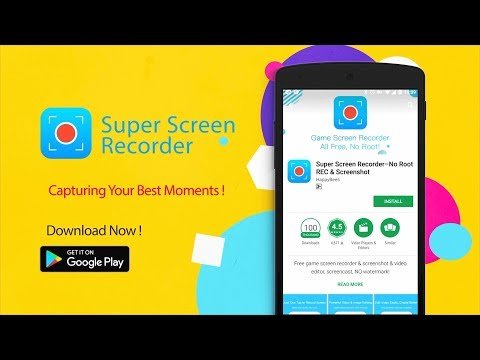 It is an amazing Android screen recorder that has a nice interface and remarkable video editing features. It needs no rooted device and does not have a time restriction for the recordings. The video quality here is top notch and you can pause and continue as well. Facecam, GIF Maker, and the brush tool to draw over your video are some enticing features to aid you to get the result you desire. It is free and supports ads.
3. DU Recorder
One of the very best Android screen recorder apps out there. It has more than ten million downloads. It also helps you to record a video of anything that is happening on your smartphone's screen. The videos here can be edited via a built-in editor.
A watermark is present that will be shown on every clip you come up with. All functions are handy in the free version itself without any in-app purchases. It functions in 20 different languages.
4. Screen Recorder
Will not cost you a dime and it has zero ads or in-app purchases. Very Lightweight plus zero watermarks and no need for root access.
Lots of resolutions, several frame rates can be gotten with in-app. If you own a video trimmer and add it, you will be able to select the location to have your recordings saved. Screen Recorder is available in multiple languages asides English.
5. Mobizen Screen Recorder
Simple-to-use plus it lets you record, capture and edit any clip, games, or applications. The video resolutions are super sharp and your reactions are not allowed to go to waste with the help of the Facecam. There are several editing features present on it. It is free and ad-supported. You
will not be wrong if you expect in-app purchases too.
6. ADV Screen Recorder
Another one to check out as per screen recorders for Android. It has the features you want. You can record your phone's screen using two kinds of engines.
Lots of unique resolutions can also be set, different frame rates and bit rates are not exempted from your use as well. As you record, the front and rear cameras can be used. Pausing of the recording is possible on ADV Screen Recorder. It is not heavy and will not cost you anything but contains ads and in-app purchases.
7. Google Play Games
This platform offers more than just mobile games. It accommodates built-in screen recording functions that are pretty effective. You can record games, apps and everything else you want. It is recommended for Android users with the latest versions of Android. But if its the more ancient versions you possess, ensure your device is rooted to make use of its recording function. Its resolution is up to 720p. It is free with zero ads. But there are in-app purchases. Also, note that recording might not function in every country.
There you have it – The best screen recorder apps for Android. If you have other recommendations, feel free to drop them in the comment section below.
Get the most important happenings in your inbox weekly