Despite the fact that customization on iPhones is almost impossible, iOS permits users to tweak wallpapers. Changing wallpapers give your iPhone home screen and lock screen an a more exciting look. Thanks to intuitive thinking, there are many apps today that feature top-notch wallpapers. Here is a comprehensive list of best wallpaper apps for iPhones:
1. Vellum Wallpaper
Seeking to customize your iPhone with exciting wallpapers? The Vellum wallpaper app may just be the wallpaper app you need on your iPhone. vellum is one of the top wallpaper apps we have for iPhones today. The Vellum wallpaper app features hundreds of stunning wallpapers that will certainly tickle your fancy. This app lets you preview wallpapers before applying them, it lets users set blur filter to wallpapers, wallpapers on this app organized into different categories, making navigation a lot easier.
2. Everpix
Everpix provides users with top-notch HD wallpapers for their iPhones. It has a wallpaper library with over 4000 wallpapers contained. Wallpapers here are frequently updated, making you are kept abreast with the latest. Everpix features a well-organized library, making navigation very easy. Using the Notched iPhone x? No need to worry. Everpix has HD wallpapers, that fit into the iPhone X display.
3. WLPPR
WLPRR is a wallpaper designed for iPhone users who love universe wallpapers. This app houses photos of all the sea, sky and other universe photos. WLPRR add scientific sources, as well as description, alongside the wallpapers featured. WLPPR lets users add a bookmark to their favorite wallpapers. WLPPR also offers a very intuitive interface, that makes the selection of wallpapers very easy. WLPPR lets you choose between normal size or parallax size after the wallpaper has been downloaded.
4. Icon Skins and Themes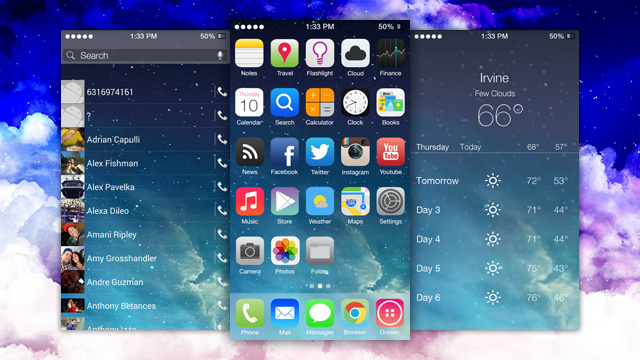 The Icon Skins and Themes app is yet another awesome wallpaper app for iPhones. It features high definition wallpapers dedicated for iPhone X, a large number of wallpaper designs, well-organized wallpaper categories. The Icon Skins and themes app lets you add a blur effect to wallpapers.
5. kappboom
Kappboom offers iPhone users with beautiful and appealing wallpapers, that makes their phone pleasing to look at. Kappboom features over 200,00 wallpapers. With a library with these wallpapers, you are certainly not going to run out of choices anytime soon.
This app features a slideshow option, that lets you view wallpapers in automatic slides. Apart from featuring wallpapers, Kappboom features cool facts, famous quotes, and drink recipes.
6. Live Wallpapers For Me
The "Live wallpapers for me" app is another ideal wallpaper app, every iPhone owner should have. This app features thousands of animated wallpapers. Wallpapers featured here are categorized into Sci-fi, Sports, Animal, Water, Fire and lots more. Wallpapers featured in this app is best for iPhones that support live wallpapers. New wallpapers are added on a weekly basis, and you are assured of getting 4K content.
7. Magic Screen
Still, on the topic o best wallpapers apps for iPhones, Magic screen is yet another awesome wallpaper app, that is compatible with iPhones. It is an essential app for iPhone users who desire to keep a top-notch home screen design.
Apart from letting users choose from a library of pre-existing wallpapers, Magic Screen also allows users to design their own wallpapers, allowing them to add features that were not found in photos featured in its library. Magic screen lets users add text and calendar to wallpapers, with 150 fonts to choose from. Magic screen also lets users turn photo into a GIF or a Live wallpaper to be used on your home screen.
8. Papers.co
Paper.co offers iPhone users more than 500,000 wallpapers, grouped into different categories. The paper.co app features stunningly designed pictures, categorized into categories Art, Apple, People, Texture, Sunset, Night, Spring, Space and lots more. Paper.co lets you preview wallpapers on your lock screen and homescreen, by clicking on the wallpaper you desire.
9. Walli
Walli is a wallpaper app that is available on both iOS and Android. wallpapers featured here are exceptional. They were created by top-notch artist.
Wallpapers featured in this app are categorized into retro, cute, sade, hipster and funny. You are allowed at liberty to select the wallpaper size that suits your iPhone screen size.
10. Pixs

Last but certainly not least, is the Pixs wallpaper app. Designed exclusively for iPhones. Pixs features a very neat interface, with wallpapers intuitively arranged into different categories for easy reach. Wallpapers are added every day. There are no ads here. The Pixs app houses wallpapers that suit iPhone Xs, Xs Max, and Xr display.
There you have it – a comprehensive list of best wallpaper apps for iPhones. If you have other recommendations, feel free to drop them in the comment section below.