Recall that Samsung's first 108MP camera sensor was released approximately three years ago. The company released its first 200MP camera sensor earlier this year. Sony has joined the megapixel battle with its 100MP smartphone camera sensors to attract more customers.
According to reports, Sony's first 100-megapixel camera sensor will be part of the IMX8 series and will be appropriate for mid-range and higher-mid-range smartphones. Although no technical details have been released yet, the sensor could be larger than the typical 1/2-inch 64MP camera.
Must Read: Apple iPhones to Adopt EU Enforced USB-C by 2024
While no smartphone featuring Samsung's ISOCELL HP1 200MP camera sensor has been released yet, the South Korean company is already working on its second-generation 200MP sensor, which could be released later this year. The Galaxy S23 Ultra is reported to have a 200MP camera sensor.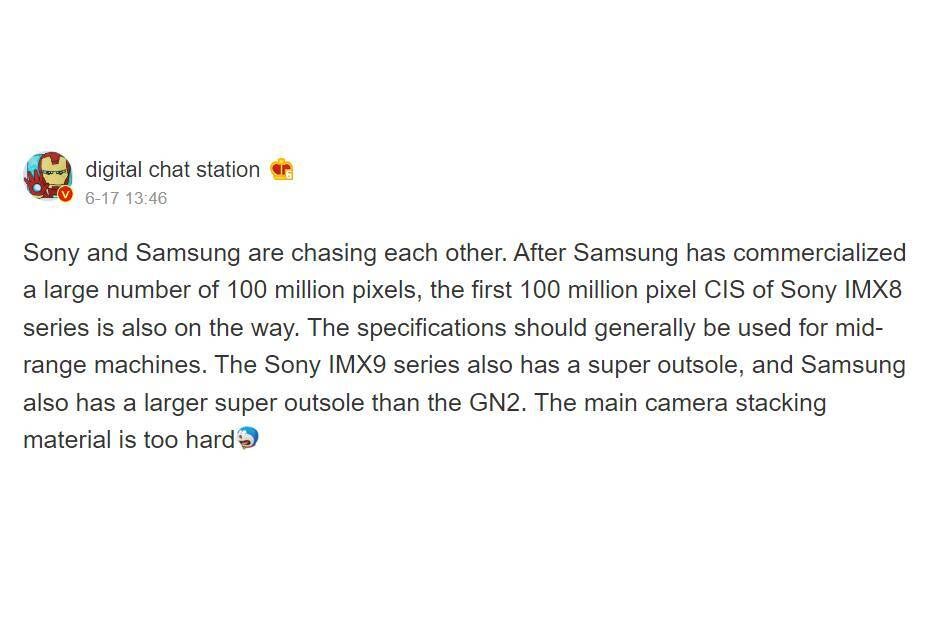 Furthermore, Sony is rumored to be working on a new Sony IMX9 series sensor, which will compete with Samsung's 50MP ISOCELL GN2 sensor, which has 1.4m large pixels. This 1/1.2-inch sensor was initially introduced in the Xiaomi Mi 11 Pro. This rumor comes from leaker Digital Chat Station.
The leaker previously claimed that Sony's upcoming IMX9 series camera would feature a 50MP sensor, possibly dubbed the IMX989, and would be 1-inch in size. He also mentioned that the Xiaomi 12 Ultra might be the first phone to use this sensor. The Sony Xperia Pro-I, released in 2021, sports a 1-inch sensor with a resolution of 12MP. The leaker also claims that Samsung is working on a sensor that is larger than the GN2 sensor, but he doesn't elaborate.
Must Read: Google's Foldable Pixel Phone Launch Delayed, Here's Why
The 200MP ISOCELL HP1 sensor has been included in Motorola's forthcoming flagship smartphone, the Edge 30 Ultra. Apple employs Sony camera sensors solely in iPhones, whereas OPPO, OnePlus, and Xiaomi are gradually moving away from Samsung sensors in their high-end smartphones.
Smartphone cameras will overtake DSLR cameras by 2024, according to the CEO of Sony's Semiconductor division, and it appears that these reported new larger and higher resolution cameras will step in that direction.
Get the most important happenings in your inbox weekly