With mobile phones becoming a key part of every phone user's daily life, it is hard to do anything without it. Key features like checking emails, video conferencing, calls, instant messaging make our daily activities less complex. Company owners can easily contact their workers and clients as well. Also, Android and iPhone now have smart applications that are driven by AI (Artificial Intelligence). And as per a report by Gartner, almost eighty percent of mobile phones will have "On-Device" AI capabilities in 2 years time. This also offers huge investment possibilities, said the head of Aspolin International Ltd., which sees great potential in this market. According to him, Artificial Intelligence will be the future and will be implemented in many different forms into our life within the next years. These apps will make things super comfortable for users that decide to have it on their phones. Let's expatiate on our list of 7 Artificial Intelligence Apps For Your Android Or iPhone
:
1. ELSA Speak
This is a well-known application that can be downloaded on both Android and iOS phones. The app helps users to learn the English language as soon as possible and it enhances your pronunciation. With this AI-based smart application, you will be able to speak proper English before 30 days. Just say any word and you will be told how it should be pronounced. It will cost nothing and can be downloaded from the App Store or Play Store.
2. Robin – The Voice Assistant

This app will help when you drive your car. It is a car owner's best friend and it basically functions like a second driver.
Must Read: How To Replace Google Assistant with Alexa or Cortana on Android
Drivers will be allowed to engage in messaging, ask questions, receive traffic updates, hands-on GPS Navigation for directions without taking your eyes off the road or searching for real-time ETA. It can also help you to read your emails, news, Twitter and Facebook feed and so on.
3. Fyle
This is a B2B accounting application that caters for your company's expenses and receipts in a very comfortable way. It is an automated system that takes care of your business bills and receipts. Just snap the photos of the paper check, business receipts, invoices and so on, and it will take care of the rest.
Must Read: How to Delete All Amazon Alexa Voice Recordings at Once
Fyle will reveal automated reports for your place of work that is very apt. It is amazing for little businesses to monitor their accounting services. Just download it on your smartphone.
4. Google Assistant
This is a simple and comfortable smart voice-controlled system that lets you search for whatever you want with only one click. It allows you to send instant messages as well. For Android and iPhones, various voice assistant apps are meant to help phone users. Just hold the home button on your phone and say, "OK Google."
Must Read: How To Delete Your Google Assistant Voice Recordings
It assists you to send SMSes, birthday cards and aid you to check your appointments and reminders. It can be used to snap selfies too.
5. Cortona
This is an AI assistant application from Microsoft. It is popular for its amazing features. Owners of this app can use it to locate their files, clips, pictures and other vital documents from their phones. Plus, you can easily synchronize your mobile phone and computer to get notifications on your device.
6. Hound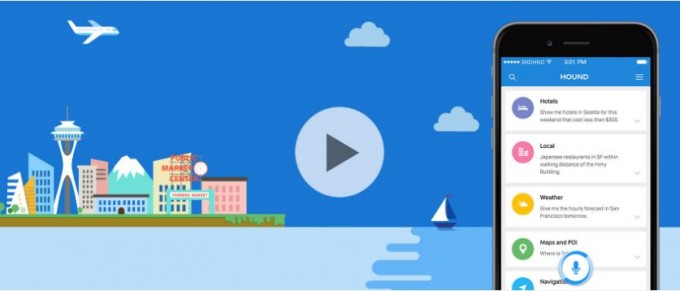 This is a vibrant AI Smart application that functions like a useful digital assistant. You can communicate with it with your voice and make it perform your regular tasks. It is quicker and performs very well. Hound can help you to locate eateries, shops, boutiques and so on around your area. Just use your natural voice and it will seem like you are communicating with a real human being.
7. FaceApp
This can bae used on your Android and iOS devices. It is very popular right now for being able to transform your pictures into amazing images. Its features can be used to modify your gender, appearance, hairstyle, smile, face shape and so on. To get more out of it, just include fresh filters to alter your overall appearance. It changes your hairstyle for free as well.
There you have it – a comprehensive list of 7 artificial intelligence apps for Android or iPhone. If you have other recommendations, feel free to drop them in the comment section below.
Get the most important happenings in your inbox weekly