Who doesn't use a camera? Whether its for selfies, capturing essential moments or channeling your inner Kourtney Kardashian. With the help of pictures, we get to relive those moments anytime we want, even if its 20 years later. This shows the importance of a camera. In this article, we are going to explore a list of 10 best camera apps for Android.
1. Camera Mix
With over 1 million downloads in the app store, I don't need to sing their praise anymore. Livestock, GIFs e.t.c makes your camera experience an enjoyable one. Imagine being able to create animated videos by including several filters and effects to it. If your search for a camera android app is fuelled by the need to have full control over the picture resolution, Camera MX is a brilliant choice. It is very compatible with Android version 2.3 and above. Users that just started photo-editing should consider this app.
2. Google Camera
It comes as a default camera app for some Android phones so it is quite popular. If you are a fan of slow-motion videos, this is your app. Google Camera users are first to know about the latest features Google includes in Android photography. This app gives you the necessary tools to enhance the sharpness of your images. Nexus smartphones are best suited to a Google camera.
3. Camera 360
This app is more fun than professional. It contains features like Funny Augmented Reality Strikers and animated theme filters to prove it is one to joke around with. Users are treated to an extensive range of filter effects that they never run out of options. Your pictures contrast, saturation, white balance are also catered for on this app. Teenagers are enormous fans of this app, but as we know, adults love to have some fun too.
4. Footej Camera
It can pass as one of the standard camera apps for Android phones. It has a beautiful user interface that lets you create high-quality photos and videos. It offers separate focus and metering areas if maintained by the device. It has a built-in gallery, continuous shooting, excellent picture, and video quality. It is new in the market but fast-gathering interested users.
5. Bacon Camera
When this camera app got released, many thought it was a joke because of the name the developers decided to stick with, but fast-forward to now, it is a very decent option to have on the list of camera apps to install.
Manual controls like White balance, Iso, Focus are present and capable. File formats like JPEG, RAW and DNG, are also guaranteed. The GIF support is also available. Plus it comes cheap.
6. Cymera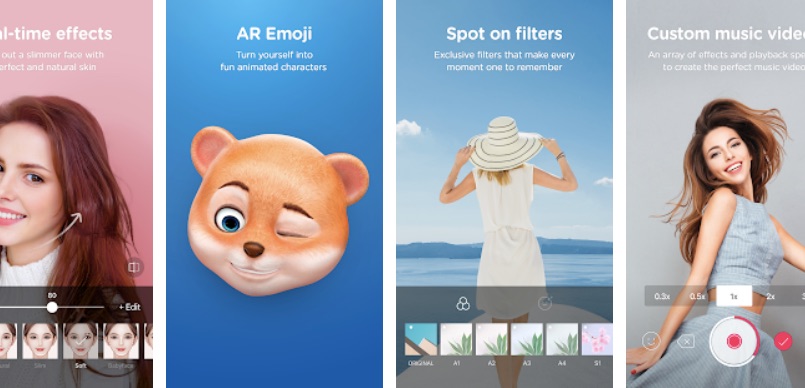 This app has been here for a while. You'll have a lot of filters, stickers and special effects to choose from with Cymera. Its camera mode is quite fascinating as it can add or remove features from your body and face. Some might not support such extreme editing, but others will fancy it. It also has a decent photo editor for little editing here and there.
7. Filmic Pro
A newbie in the Android camera game. It is also one of the most expensive apps you'll find on the play store. This camera app has unique features it can call its own. Some of them are, a dual slider for focus and appropriate exposure, a gamma curve control, analytics like RGB control and many more.
When the app first got released, so many flaws were noticed, but the newer versions did well to improve the product massively. You also get a refund should you change your mind after buying, as long as it is within the test period.
8. Google Cardboard Camera
As the name suggests, it is a camera app for Google Cardboard. It lets you take and view VR pictures. Swapping 360-degree photo is also a unique feature that comes with this app. From vacation to family gatherings, capture every moment with Cardboard Camera and enjoy it in VR. Viewing photos as on your Android screen, the usual way, is allowed, but to enjoy it more, you have to use a virtual reality device. Its creation of 3D pictures is beautiful. It is known as the King of VR, just put.
9. DSLR Camera
Pro Used for professional photos just like the regular DSLR camera. The features on both are almost identical. It is blessed with well-structured camera functions like a viewfinder that can be moved, a scene preset and autofocus that is configurable.
It also has a live histogram, color effects, and front-facing camera support. One thing you have to note though, most of the features are hardware-dependent, so ensure you have devices that support them. If you love DSLR products, do not miss out on this app.
10. Manual Camera
This a camera with several manual settings. It focuses on utilizing the camera2 API to the best of its abilities. This proves its access to shutter speed, focus distance, exposure compensation and so on. It is also insanely fast. More features include GPS (geotagging), Timer, Max. Screen Brightness On/Off e.t.c.It is unbelievably simple to use. There are time and support for RAW so ensure your device has support for RAW before installing it.
There you have it, my list of 10 best camera apps for Android. Despite indifference in names, these apps possess features that boost your photography game. If you have other suggestions, feel free to drop them in the comment box below.
Get the most important happenings in your inbox weekly