Having your mobile device with you while you drive for GPS navigation, emergency calls, e.t.c. is very important. However, it is not a wise idea to have your device in your hand while driving since it will put you and other passengers in danger. Luckily for you, there is a solution to boost your safety on the road as you use your smartphone and that is a car phone holder. Want the best options out there? see our list of 7 Best Car Phone Holders In:
1. Aukey Magnetic Car Phone Holder:
If you need a phone car holder that is very easy to install, this little magnetic car holder from Aukey can give you what you want. Before anything else, simply attach the rubber base to one of your air vents within your vehicle.
Must Read: 5 Best USB-C Car Chargers To Buy
After that, place either a magnetic metal plate in your device's case between the cover and the device, or you can simply stick on the round magnet plate on your device. Lastly, place your smartphone on the Aukey phone car mount and that is that.
2. iOttie One Touch 4 Dash and Windshield Car Phone Mount:
iOttie is also a respectable brand when it comes to car phone holders and this particular holder is very popular. Its design aids one-handed mounting in the security holder and a complete range of movement.
Must Read: 7 Best Android Auto Head Unit Car Stereos 
It is also home to a suction cup that can be placed on the vehicle's inside windshield. On top of that, its telescopic arm allows you to locate the best position for your device while you drive.
3. Belkin Universal Vent Mount:
This is a simple option that attaches to your air conditioning vent. Its side arms squeeze tightly to lock your device in place and a cable clip lets you charge your device and lock the cable in place.
Must Read: 5 Best Android Auto Apps To Improve Your Driving Experience
With its aluminum arms and a cautiously engineered pinion spring, you should not need to be bothered about your device slipping or falling.
4. Logitech Plus Trip Vent Mount:
This is another option that attaches to your vents as soon as possible. However, it is less complicated than the Belkin Universal Mount and attaches using magnets.
Must Read: Best DVD Players For Toyotas
Not to worry though, a magnetic device will not be required as you would just need to attach the added metal pad to your device and that is that.
5. Loncaster Dashboard Mount:
This mount is quite special as it is a silicone pad that mounts to your dashboard. It is home to a slot for your device and another slot for a charging cable, plus a little tray area that helps to hold objects such as hand sanitizer or change.
6. Scosche MagicMount: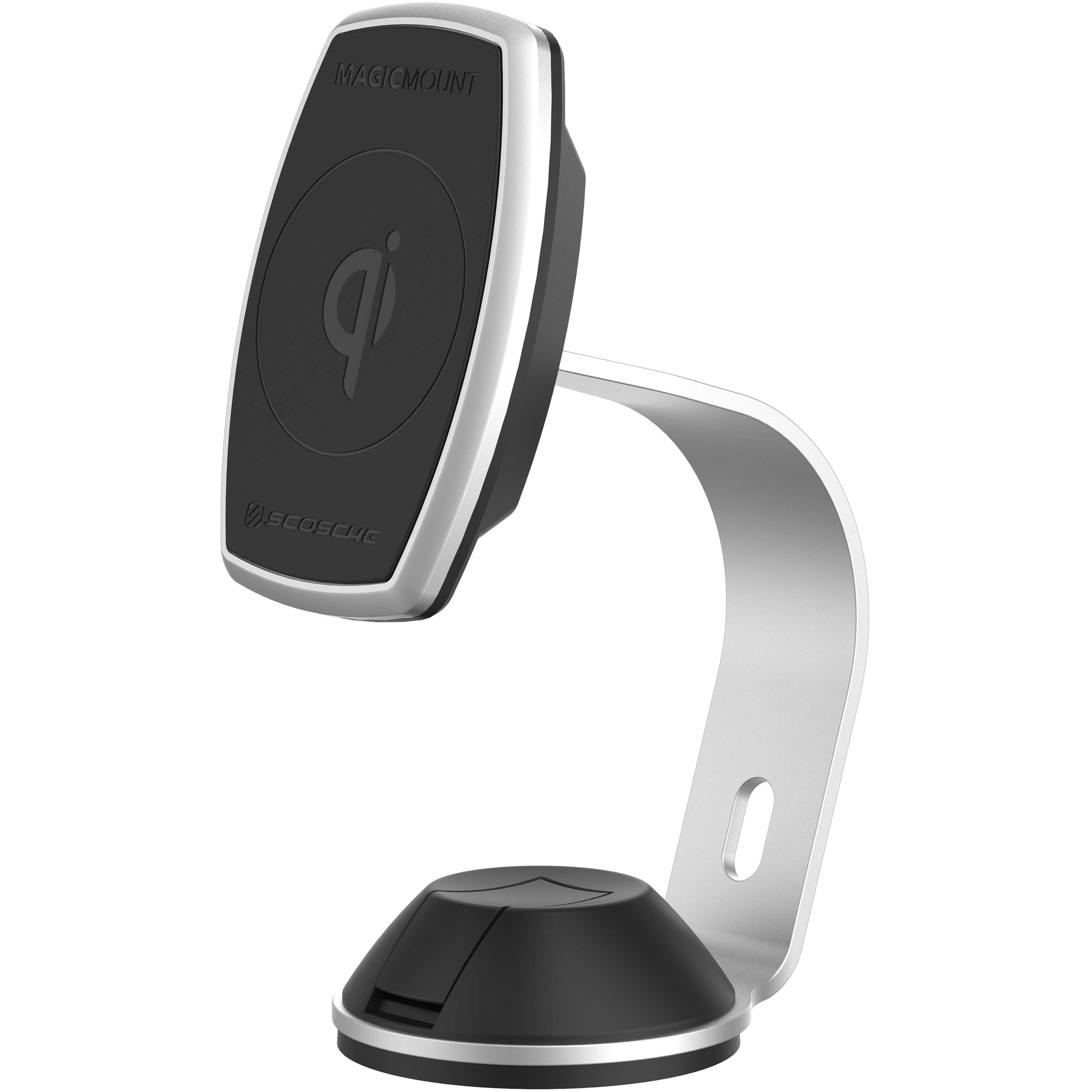 This cheap car phone holder provides a fast, simple, and inexpensive option and it also works via magnets. This magnetic pad simply attaches to the inside your phone case, letting your device stick to the mount once pressed against it. It is a brilliant holder, however, you will need to use a smartphone case in order to use this product.
7. XDesign Air Vent Mount:
This is another decent holder that was manufactured to attach to the car's air vent. However, it ensures the device is in place with physical plastic arms. As soon as you assemble the mount and place it on the air vent, simply poress a button on the back to expand the mount's sides.
It supports devices from 1.97 inches wide to 3.62 inches wide. Close the mount after placing your mobile device inside the frame, and it would work even with several bumps and impacts on the road.
More Information On Car Phone Holder:
A car phone is a mobile radio-telephone specifically designed for and fitted into an automobile. This service originated with the Bell System and was first used in St. Louis on June 17, 1946.
Since a traditional car phone uses a high-power transmitter and external antenna, it is ideal for rural or undeveloped areas where mobile handsets may not work well or at all. However, due to current US Federal Communications Commission regulations, carriers must pay penalties for activating any equipment that is not an E911 compliant device, such as analog.
There were still some car phones available as recently as 2008, including the Nokia 810 and the Motorola VC6096 for use with GSM networks and a car phone made by NAL Research for the Iridium satellite network.
Motorola provided US customers with the m800 and m900 car phones, for use with CDMA and GSM networks respectively. Some car phones had color screens and supported high-speed data connections as well as the ability to access SIM cards stored in other phones via Bluetooth.
Since 2008, many automobiles have featured integrated, "hands-free" systems to utilize a consumer's cellular phone, via a Bluetooth wireless link or use an integrated transceiver. The systems use an internally mounted microphone, and the car's audio system, and may feature voice activation and control.
There you have it – a comprehensive list of 7 of the best car phone holders to buy. If you have any personal favorite or other recommendations, do well to drop them in the comment section below.