Nothing beats plugging into your favorite guitar amp and enjoying its blissful sound. If you are close to sensitive neighbors or you wish to practice as loud as you want at any point in time, see our list of 7 Best Headphones For Guitar Amps:
1. Boss Waza-Air Wireless Personal Guitar Amplification System:
With its 5 special amp types from the Katana amp series, it is a very good option to go for. The advanced spatial tech and integrated gyro sensor provide a brilliant "amp-in-room" experience that will excite lovers of good sound.
Must Read: Top 10 Guitar Learning Apps For Android And iOS
It is also home to a 3D ambiance delivered through custom-designed 50mm drivers with no latency. It possesses a versatile 2-way design and built-in rechargeable batteries that last for 5 hours.
2. Sennheiser HD 650 Open Back Professional Headphones:
This headphone is expressive and brilliant. It comes with high power neodymium magnet systems for minimum harmonic and intermodulation distortion, and decent voice coils that provide a fast and transient response, offering apt tones for your listening pleasure. Its frequency range of 10Hz to 41kHz also ensures you get the dopest picture possible for the song you listen to and play.
3. Audio-Technica ATH-M50xBT Headphones:
This is one of the best studio-quality headphones out there and it really suits guitars. It is highly effective at providing proper tones that are real.
Must Read: How To Choose The Perfect Studio Headphones For Use
Its original ATH-M50x headphones give us regular headphones while its wireless version will be good news for music heads who adore less physical restrictions. If you wish to hear your tones during less-friendly hours while wanting to record and mix, it is the option to go for.
4. Yamaha HPH-MT7 Headphones:
This headphone has to be one of the best studio monitors ever and it offers a high-resolution sound with lovely stereo imaging and brilliant source signal reproduction from 15Hz to 25kHz.
Must Read: Top 10 Guitar Learning Apps For Android And IOS
It also comes with a 3-dimensional arm pivot construction and adjustable slider length to reduce fatigue once used for a long time.
5. AKG K240 Studio Headphones:
Still on the topic of headphones for guitar amps. This headphone possesses a self-adjusting headband system that seamlessly fits most head sizes. With a frequency response of 15Hz to 25kHz, it covers your guitar sound completely and affordably. When it comes to the extras, it is quite limited as it was launched mainly for mixing. If you wish to listen and enjoy your favorite albums, it is the headphone to go for.
6. Beyerdynamic DT 770 PRO Studio Headphones: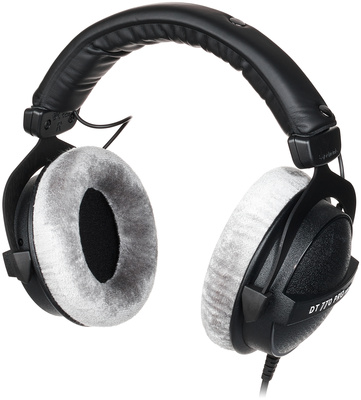 These headphones are super high-end and they come with a frequency response ranging from 5Hz to 35kHz for maximum resolution and precision. Its extended range means all its notes will feel defined and articulate throughout its use. Music producers use them a lot, especially for vocal recordings, because their noise isolation ability is top-notch.
7. Vox VH-Q1 Smart Noise Cancelling Headphones:
Its internal and external microphones make them a brilliant tool for guitar practice and vocal training. The headphone simply picks up and isolates frequencies from your instrument and voice for a soothing sound. You are even allowed to feed in an audio source and mix it with what you play, which is amazing for rehearsing or rocking backing tracks.
More Information On Headphones:
Headphones (or head-phones in the early days of telephony and radio) traditionally refer to a pair of small loudspeaker drivers worn on or around the head over a user's ears.
They are electroacoustic transducers, which convert an electrical signal to a corresponding sound.
Headphones let a single user listen to an audio source privately, in contrast to a loudspeaker, which emits sound into the open air for anyone nearby to hear. Headphones are also known as ear speakers, earphones, or, colloquially, cans.
Headphones connect to a signal source such as an audio amplifier, radio, CD player, portable media player, mobile phone, video game console, or electronic musical instrument, either directly using a cord, or using wireless technology such as Bluetooth, DECT or FM radio.
The first headphones were developed in the late 19th century for use by telephone operators, to keep their hands free. Initially, the audio quality was mediocre and a step forward was the invention of high fidelity headphones.
Headphones are made in a range of different audio reproduction quality capabilities. Headsets designed for telephone use typically cannot reproduce sound with the high fidelity of expensive units designed for music listening by audiophiles.
Headphones that use cables typically have either a 1/4 inch (6.35mm) or 1/8 inch (3.5mm) phone jack for plugging the headphones into the audio source. Some stereo earbuds are wireless, using Bluetooth connectivity to transmit the audio signal by radio waves from source devices like cellphones and digital players.
Due to the spread of wireless devices in recent years headphones are increasingly used by people in public places such as sidewalks, grocery stores, and public transit.
Headphones are also used by people in various professional contexts, such as audio engineers mixing sound for live concerts or sound recordings and DJs, who use headphones to cue up the next song without the audience hearing, aircraft pilots, and call center employees. The latter two types of employees use headphones with an integrated microphone.
There you have it – a comprehensive list of 7 of the best headphones for guitar amps. If you have any personal favorite or other recommendations, feel free to drop them in the comment section below.