One of the things we love about technology is the ability to work anywhere. Human beings are no longer restricted to their desks, and they can now choose to work on the sofa, in bed, and even during a long flight. However, being able to work anywhere does not mean that it is always a comfortable thing to do. To bring you the convenience you are looking for, see 5 Best Lap Desks:
1. AboveTEK Lap Desk:
This option is home to all you want from a lap desk, including a spacious 21.7 x 14.4 inches which provides lots of room for laptops up to 17 inches. It also delivers a designated space for your mouse, which aids you to move it smoothly.
There is a slot for your tab as well, and a standalone slot for your smartphone. If you want a pen socket, you'll have one too. This lap desk is also home to a built-in wrist pad to offer ergonomic support while you type away.
2. Huanuo Adjustable Lap Desk:
For its affordable price, this lap desk offers 14.8 x 11 inches, making it ideal for not just holding laptops, but tabs, smartphones as well.
Must Read: 5 Best Desk Setup Gadgets For Gamers To Ward Off Competition
It comes with an anti-slip rail to prevent items from falling off, and its plastic platform sits on top of 2 cotton pads, making it convenient to hold. This option is very lightweight and it possesses a handle for easy carriage.
3. LapGear Lap Desk With Device Ledge:
Still on the topic of best lap desk to buy. If colors are your thing, you'll appreciate the fact that this lap desk is available in white marble, blush pink, espresso woodgrain, oak woodgrain, black carbon, and silver carbon.
It is 21.1 x 12 inches, and will easily fit up to a 15.6-inch laptop and the several kinds of tablets available for sale now.
Must Read: 7 Best Lap Desks For Gaming
It even comes with an integrated mouse pad in a 5 x 9-inch space, and its dual cushions prevent the lap desk from being on your lap directly. Sadly, there is no wrist support here, however, it comes with a device ledge to keep your laptop or tablet from falling off.
4. Mind Reader Adjustable Laptop Desk: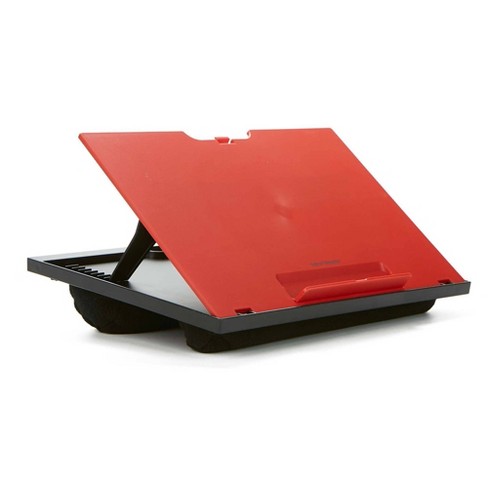 With eight angle options, you'll definitely find the best angle that will offer the ergonomic support you need while you work. It comes with an easy pop-up lip to keep your laptop in place, and its plastic surface is the perfect size for laptops.
If you also do not like accessories causing a hindrance while you work, this is the option to go for. It is available in various colors, including green, black, blue, gray, pink, and red.
5. TaoTronics Lap Desk:
If you need a laptop that can adjust in height considerably, this is the best lap desk option to go for. It adjusts in height from 9.5 to 12.6 inches, therefore it can easily enhance your posture and prevent you from straining your eyes.
Must Read:5 Best New Desktop Gadgets To Buy
This lap desk even tilts from 0 to 35 degrees to help you find the perfect angle. It is 23.6 x 13 inches, therefore the surface offers lots of space for not just your laptop, but other items as well. It is available in black, brown, and light oak plywood colors.
Wrapping up: There you have it – a comprehensive list of 5 of the best lap desks to buy. If you have any personal favorite, feel free to drop them in the comment section below.
More Information On Gadgets:
A gadget is a small tool such as a machine that has a particular function, but is often thought of as a novelty. Gadgets are sometimes referred to as gizmos.
In the software industry, "Gadget" refers to computer programs that provide services without needing an independent application to be launched for each one, but instead run in an environment that manages multiple gadgets.
There are several implementations based on existing software development techniques, like JavaScript, form input, and various image formats.
The earliest documented use of the term gadget in context of software engineering was in 1985 by the developers of AmigaOS, the operating system of the Amiga computers (intuition.library and also later gadtools.library).
It denotes what other technological traditions call GUI widget—a control element in graphical user interface. This naming convention remains in continuing use (as of 2008) since then.
It is not known whether other software companies are explicitly drawing on that inspiration when featuring the word in names of their technologies or simply referring to the generic meaning. The word widget is older in this context.
In the movie "Back to School" from 1986 by Alan Metter, there is a scene where an economics professor Dr. Barbay, wants to start for educational purposes a fictional company that produces "widgets: It's a fictional product."