The Nintendo Switch has definitely taken over the world, selling over 50 million units and still looking promising to attract more gamers. However, the standard Nintendo Switch Joy-Con controllers that come with this console are a constant pain in the neck of users. They are super costly and fragile, so most people never get proper service for their money. To end this problem, see our list of 5 Best Nintendo Switch Controllers:
1. Nintendo Switch Pro Controller:
Even if Joy-Cons are amazing for portability, the most beautiful Nintendo Switch controller experience you can possibly get will come from the official Pro Controller.
Must Read: 7 Best Nintendo Switch Multiplayer Games For Families
It is a complete controller with an identical layout with the popular Xbox One Controller, and it possesses the D-pad at the bottom. It even lasts longer than the regular Joy-Cons, making it suitable for playing in your house or for Super Smash Bros Ultimate and Fortnite competitions.
2. Nintendo Switch Joy-Con Controllers: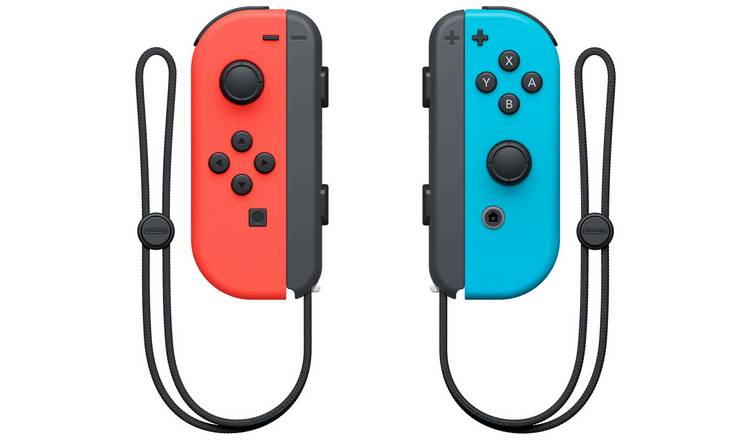 The Joy-Cons might have issues with connectivity, however, they are still very much one of the most effective Nintendo Switch controllers.
Must Read: 5 Best games for your new Nintendo Switch
They might be quite costly, but you will be getting 2 fully functional controllers, which is great news for the occasional co-op. It can also be bought in several colors.
3. 8bitdo SN30:
One amazing thing about the Nintendo Switch is its brilliant library of retro and indie games. If you subscribe to Nintendo Switch Online, you will be able to access over seventy classic NES and SNES games.
Nintendo sells SNES-style Switch controllers, but they are unavailable most of the time. Not to worry though, because the 8bitdo SN30 provides a similar experience, not for just the Switch, but also for Windows, Mac, Android, and so on.
4. HORI Split Pad Pro:
If you fancy the portability of the Switch but you are tired of the regular Joy-Cons, this is an amazing option. It is made of 2 parts that slide right into one slot on the side of the console. It offers a super comfortable grip and a brilliant D-pad on the left side. Its design also makes traditional fighting good to watch.
5. PDP Faceoff Deluxe+ Controller:
If you need something less costly, this is the controller to go for. It is home to lots of Pro Controller advantages plus more extras, and it costs half the price.
Must Read: 5 Best PSP Emulators For Your Android Phone
An amazing feature it comes with is a headphone jack on the controller, which aids the building of immersion. However, it is wired and it possesses a 10 foot (3 meters) cable.
More Information On Nintendo Switch:
The Nintendo Switch is a video game console developed by Nintendo, released on March 3, 2017. It is a hybrid console that can be used as a stationary and portable device.
Its wireless Joy-Con controllers, with standard buttons and directional analog sticks for user input, motion sensing, and tactile feedback, can attach to both sides of the console to support handheld-style play.
They can also connect to a Grip accessory to provide a traditional home console gamepad form, or be used individually in the hand like the Wii Remote and Nunchuk, supporting local multiplayer modes.
The Nintendo Switch's software supports online gaming through Internet connectivity, as well as local wireless ad hoc connectivity with other Switch consoles.
Nintendo Switch games and software are available on both physical flash-based ROM cartridges and digital distribution via Nintendo eShop; the system does not use region locking. As an eighth-generation console, the Nintendo Switch competes with Microsoft's Xbox One and Sony's PlayStation 4.
Known in development by its codename NX, the concept of the Switch came about as Nintendo's reaction to several quarters of financial losses into 2014, attributed to poor sales of its previous console, the Wii U, and market competition from mobile gaming. Nintendo's then-president Satoru Iwata pushed the company towards mobile gaming and novel hardware.
The Nintendo Switch's design is aimed at a wide demographic of video game players through the multiple modes of use. Nintendo opted to use more standard electronic components, such as a chipset based on Nvidia's Tegra line, to make development for the console easier for programmers and more compatible with existing game engines.
As the Wii U had struggled to gain external support, leaving it with a weak software library, Nintendo preemptively sought the support of many third-party developers and publishers to help build out the Switch's game library alongside Nintendo's own first-party titles, including many independent video game studios.
While Nintendo initially anticipated around 100 titles for its first year, over 320 titles from first-party, third-party, and independent developers were released by the end of 2017.
There you have it – a comprehensive list of 5 of the best Nintendo Switch controllers. If you have any personal favorites or other recommendations, feel free to drop them in the comment section below.