Some will say all smartphones can be a gaming phone, however, how about those that want that seamless gaming experience? Not all mobile devices can provide that. If you want physical-style buttons or a screen with a high refresh rate for your gaming sessions, only a few phones can give you exactly that and we expatiate on them in our list of 5 Best Phone For Gaming:
1. Asus ROG Phone 2: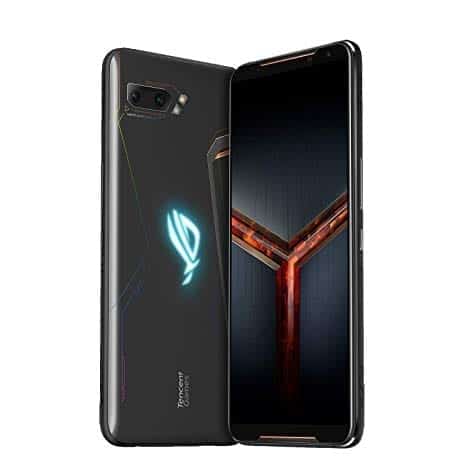 If you are not aware, this was the very first Snapdragon 855 Plus smartphone. Its slightly upgraded chipset blessed owners with a marginal CPU and GPU clock speed increase, better than its predecessor, Snapdragon 855. This smartphone offers 12GB of RAM plus 256GB or 512GB of UFS 3.0 storage and a huge 6,000mAh battery. The device also comes with an OLED display and a 120Hz refresh rate.
2. OnePlus 8/8 Pro:
This is the device that truly epitomizes "Never settle." Its amazing IP rating and brilliant cameras are massively underrated.
Must Read: 10 Best Anime Games For Your Android Phone
The 2 devices possess refresh rate AMOLED screens, even if the OnePlus 8 is restricted to 90Hz while the pro is 120Hz. Their speed is quite identical as they are both home to Snapdragon 865 processor, 8-12GB of RAM, 128-256GB of storage, and 5G support.
3. Samsung Galaxy S20 series:
They are not just seen as gaming devices, they are real powerhouses that provide everything a gamer is looking for. The lineups involved are the Samsung Galaxy S20, S20 Plus, and super-premium S20 Ultra, and they are all a gamer's dream.
Must Read: 5 Best PSP Emulators For Your Android Phone
These devices come with 120Hz AMOLED displays, Snapdragon 865 (or Exynos 990) processors, 12GB of RAM, and microSD card support. They might be quite expensive, but you will surely get value for your money.
4. LG V60 ThinQ:
Still on the topic of best phones for gaming. This is one of the best gaming devices around because of its 2 screens feature. Like the older LG G8X ThinQ, this smartphone comes with an attachment that is simply another phone, which aids special gaming possibilities.
Must Read: 7 Best Gaming Tablets Right Now
It really suits retro gaming once you set up a controller on the bottom screen. Add that to features like Snapdragon 865 processor, 8GB of RAM, 128GB internal storage, and a microSD card slot, and you will definitely appreciate this work of art.
5. Razer Phone 2:
This device is the epitome of phone gaming. Its 5.7-inch 120Hz LCD screen (QHD) and personalizable RGB strips make it an honorable mention in this list. It provides a Snapdragon 845 processor, 64GB to 128GB of storage, and 8GB of RAM. Other features include a 4,000mAh battery, 12MP+12MP telephoto rear setup, and an 8MP selfie camera.
More Information On Video Games:
A video game is an electronic game that involves interaction with a user interface to generate visual feedback on a two- or three-dimensional video display devices such as a touchscreen, virtual reality headset, or monitor/TV set.
Since the 1980s, video games have become an increasingly important part of the entertainment industry, and whether they are also a form of art is a matter of dispute.
The electronic systems used to play video games are called platforms. Video games are developed and released for one or several platforms and may not be available on others.
Specialized platforms such as arcade games, which present the game in a large, typically coin-operated chassis, were common in the 1980s in video arcades, but declined in popularity as other, more affordable platforms became available.
These include dedicated devices such as video game consoles, as well as general-purpose computers like a laptop, desktop, or handheld computing devices.
In common use, a "PC game" refers to a form of media that involves a player interacting with a personal computer connected to a video monitor. Personal computers are not dedicated game platforms, so there may be differences running the same game on different hardware.
Also, the openness allows some features to developers like reduced software cost, increased flexibility, increased innovation, emulation, creation of modifications ("mods"), open hosting for online gaming (in which a person plays a video game with people who are in a different household) and others. A Gaming computer is a PC or laptop intended specifically for gaming.
There you have it – a comprehensive list of 5 of the best phones for gaming. If you have any personal favorite or other recommendations, feel free to drop them in the comment section below.
Get the most important happenings in your inbox weekly