The best rugged mobile devices could be the difference between using your phone carefree and constantly worrying about keeping it safe. If you are done worrying and you need that guarantee once and for all, see 5 Best Rugged Smartphones:
1. Blackview BL6000 Pro:
This is a rugged device that still manages to appear nice with its punch-hole design 6.3-inch high-res screen.
Must Read: 7 Best Phones For Construction Workers
It provides the toughest IP68/IP69K and MILK-STD-810G standards of certification, and it will even continue working in minus thirty degrees cold. Its triple-lens camera is also amazing with great night shots, wide-angle, portrait modes and 4K video recording.
2. Ulefone Armor 9:
You'll be getting the regular high ratings for toughness like IP68/IP69K and MIL-STD-810G certifications, but this one also comes with special features like a FLIR camera for thermal imaging plus an endoscope attachment for viewing in tight spaces. It even possesses a huge 6,600mAh battery that lasts for as long as possible.
3. Doogee S96 Pro:
Still on the topic of best rugged smartphones. This one is not just IP68/IP69K and MIL-STD-810G tough, it is also home to 48MP AI quad-camera capable of infrared night vision photography.
Must Read: 5 Best Phones With The Best Speakers
Its 16MP front-facing camera is smart enough to provide face unlocking and you also get a massive 6,350mAh battery that will remain on for two days straight and will charge wirelessly.
4. Ulefone Armor 11 5G:
The second entry from Ulefone also comes with the tough IP68/IP69K and MIL-STD-810G ratings, including 5G and a wonderful night vision camera.
Must Read: 5 Best Phones For Productivity
The display is lower resolution than some of the other phones on the list, but features like AI 48 Penta camera, a big 5,200mAh battery make it worth it. It is not so expensive as well.
5. Blackview BV9900 Pro: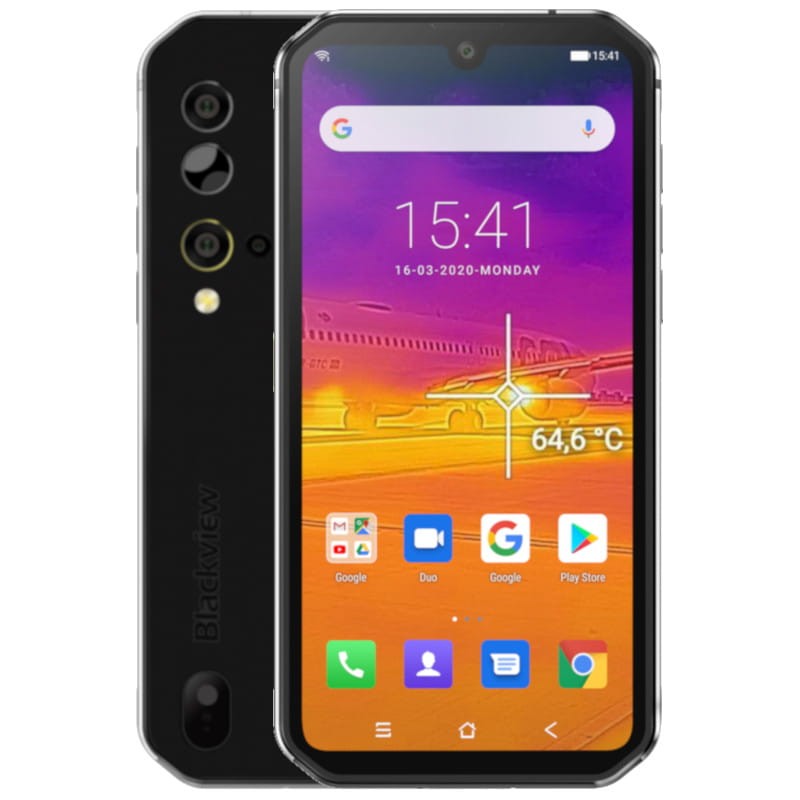 For your hard-earned cash, you'll get that super tough build with all the IP68/IP69K and MIL-STD-810G standards, alongside FLIR heat vision camera as part of the triple-lens setup.
The 8GB of RAM and Helio P90 CPU makes it very easy to use, and its high-res 5.84-inch screen is simply beautiful.
There you have it – a comprehensive list of 5 best rugged smartphones. They are highly recommended for enthusiasts.
More Information On Smartphone:
Smartphones are a class of mobile phones and of multi-purpose mobile computing devices. They are distinguished from feature phones by their stronger hardware capabilities and extensive mobile operating systems, which facilitate wider software, internet (including web browsing over mobile broadband), and multimedia functionality (including music, video, cameras, and gaming), alongside core phone functions such as voice calls and text messaging.
Smartphones typically contain a number of metal–oxide–semiconductor (MOS) integrated circuit (IC) chips, include various sensors that can be leveraged by their software (such as a magnetometer, proximity sensors, barometer, gyroscope, or accelerometer), and support wireless communications protocols (such as Bluetooth, Wi-Fi, or satellite navigation).
In the early 2010s, larger smartphones with screen sizes of at least 5.5 inches diagonal, dubbed "phablets", began to achieve popularity, with the 2011 Samsung Galaxy Note series gaining notably wide adoption.
In 2013, Huawei launched the Huawei Mate series, sporting a 6.1-inch HD (1280×720) IPS+ LCD display, which was considered to be quite large at the time.
In 2019, the majority of smartphones released have more than one camera, are waterproof with IP67 and IP68 ratings, and unlock using facial recognition or fingerprint scanners.
One of the main characteristics of smartphones is the screen. Depending on the device's design, the screen fills most or nearly all of the space on a device's front surface. Many smartphone displays have an aspect ratio of 16:9, but taller aspect ratios became more common in 2017.