If you are a big fan of Nokia phones, then you would agree with me that the most popular ones are the ones in the low-end to mid-range category. However, this doesn't rule out the existence of the high-end ones. This article sheds more light on these high-end Nokia devices, as we explore a comprehensive list of 5 best Nokia phones with the best features.
These Nokia smartphones are outlined below:
1. Nokia 9 Pure View:
This device packs in superb features like its five rear cameras, which is the most we have actually seen in any smartphone across the globe. It is not so costly when compared with most flagships out there, therefore, if you are in the market for a good camera phone that doesn't break the bank, you should totally consider the Nokia Pure View.
2. Nokia 8.3 5G:
Users will be getting a big 6.81-inch screen that is amazing for watching films while on the move or playing games on the go. Its battery is very applaudable as well as it keeps you going all day long, while you enjoy the added screen space to its fullest.
Must Read: 5 Best Nokia 8.3 Cases And Covers
It comes with a dedicated Google Assistant button that could be frustrating though, but its design will make you overlook that. Also, while the camera setup seems fantastic, the macro sensor can do better.
3. Nokia 6.1:
The Nokia 6.1 is a rugged smartphone  iwith a superb design and a strong frame, therefore you are guaranteed durability. Nokia 6.1 is also home to brilliant specs, including a superb chipset and beautiful screen. The Nokia 6.1 features a Snapdragon 630 processor, 4GB / 64GB maxed-out RAM and storage, a 3000mAh battery and lots more.
4. Nokia 7.2: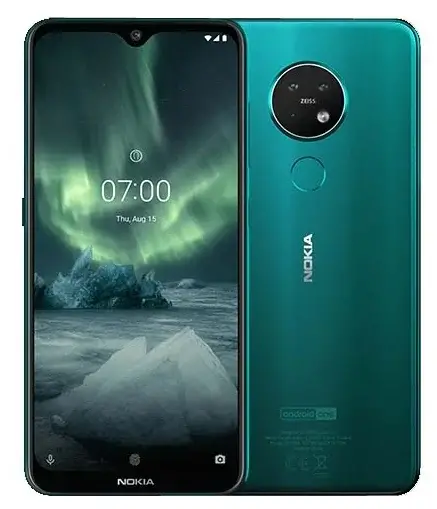 This is a proper mid-range device that has done its best to stand out among other Nokia smartphones. It delivers seamless performance, a premium design, and exciting main cameras.
Must Read: 5 Best Phones For Productivity
Sadly though, its wide-angle camera can definitely be better which is very sad for picture lovers who believe in the Nokia brand. However, it features a beautiful stock design and a guaranteed 2 years of OS updates and 3 years of security updates.
5. Nokia 7 Plus:
The Nokia 7 Plus is precisely what Nokia is known for, delivering features you would expect at half the price you would pay for most flagships. It comes with a brilliant camera loadout for its price and it'll last for a very long time even when you use it extensively. You can expect a few issues here and there, but it is still worth investing in.
wrapping up:
Having read through this list of 5 Nokia phones with the best features. If you have any personal favorites we haven't mentioned above, kindly let us know in the comment section below. We would love to hear from you.
More Information On Gadgets:
A gadget is a small tool such as a machine that has a particular function but is often thought of as a novelty. Gadgets are sometimes referred to as gizmos.
In the software industry, "Gadget" refers to computer programs that provide services without needing an independent application to be launched for each one but instead run in an environment that manages multiple gadgets.
There are several implementations based on existing software development techniques, like JavaScript, form input and various image formats.
The earliest documented use of the term gadget in the context of software engineering was in 1985 by the developers of AmigaOS, the operating system of the Amiga computers (intuition.library and also later gadtools.library).
It denotes what other technological traditions call GUI widget—a control element in the graphical user interface. This naming convention remains in continuing use (as of 2008) since then.
It is not known whether other software companies are explicitly drawing on that inspiration when featuring the word in the names of their technologies or simply referring to the generic meaning.
The word widget is older in this context. In the movie "Back to School" from 1986 by Alan Metter, there is a scene where an economics professor Dr. Barbay, wants to start for educational purposes a fictional company that produces "widgets: It's a fictional product."